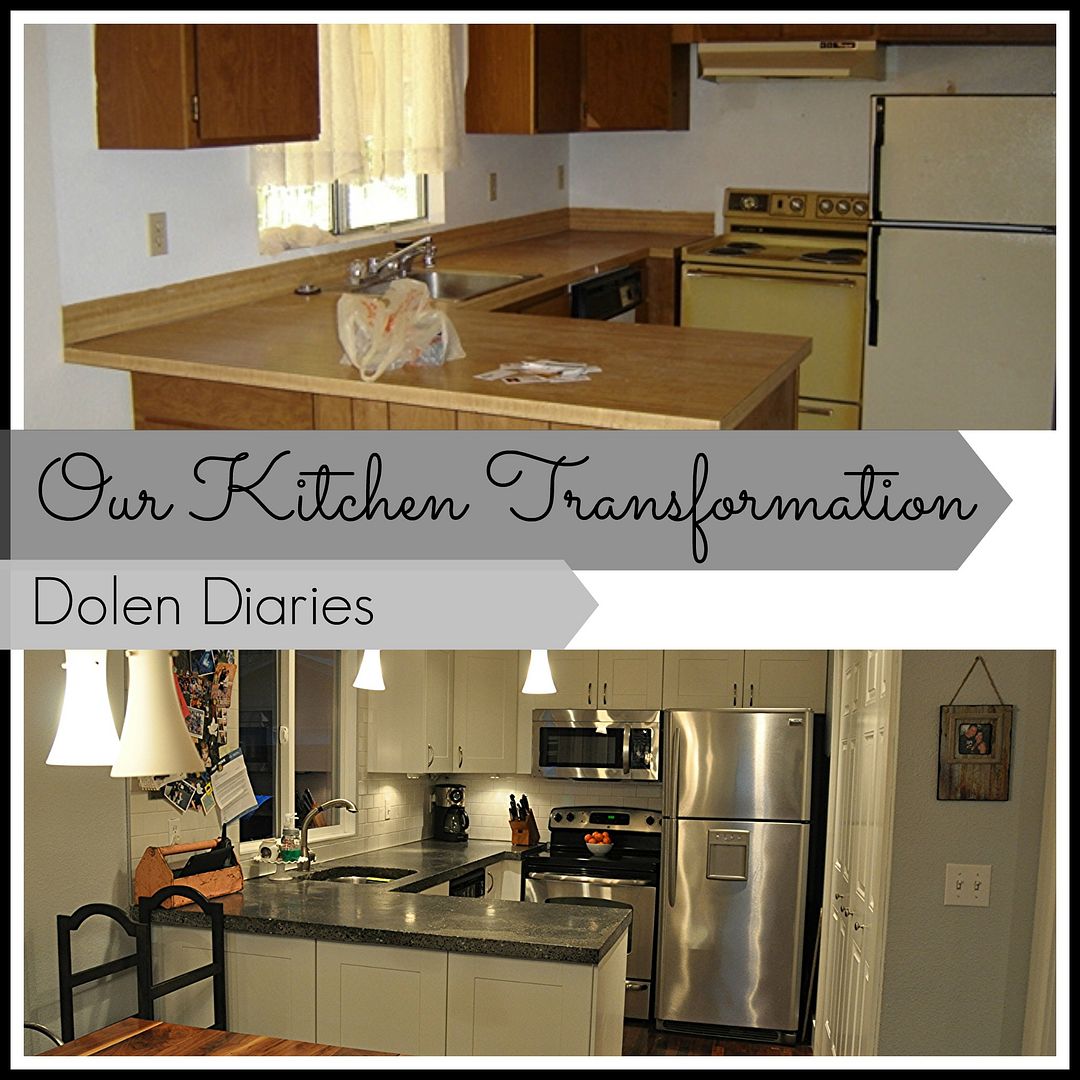 Welcome to our home! Today, I'm sharing our kitchen transformation after photos! We actually completed the full kitchen remodel a little over 6 years ago and I still love it! There is just something about white cabinets and concrete countertops that make my heart sing!
A while back I gave you the before tour. It's hard to believe that this is the same kitchen, isn't it!?!
Where shall we start!?! How about at the top & we'll work our way down to the floors!
We added a ton of lighting to the kitchen, as my dear husband is obsessed with lighting. We have four 3″ can lights, 2 pendents, and 2 under cabinet puck lights. While we were shopping for lighting I thought it was overkill. Our kitchen is not large by any means so I didn't understand why we needed so much, however, I must admit that I love all the lighting. All the overheads are on one dimmer & the pendants are on another dimmer with our chandelier over the table which is nice to control the mood. (Or just "hide" the fact that I haven't wiped down the counters yet & there is a jelly blob waiting to be taken care of.)
Let's talk cabinets next….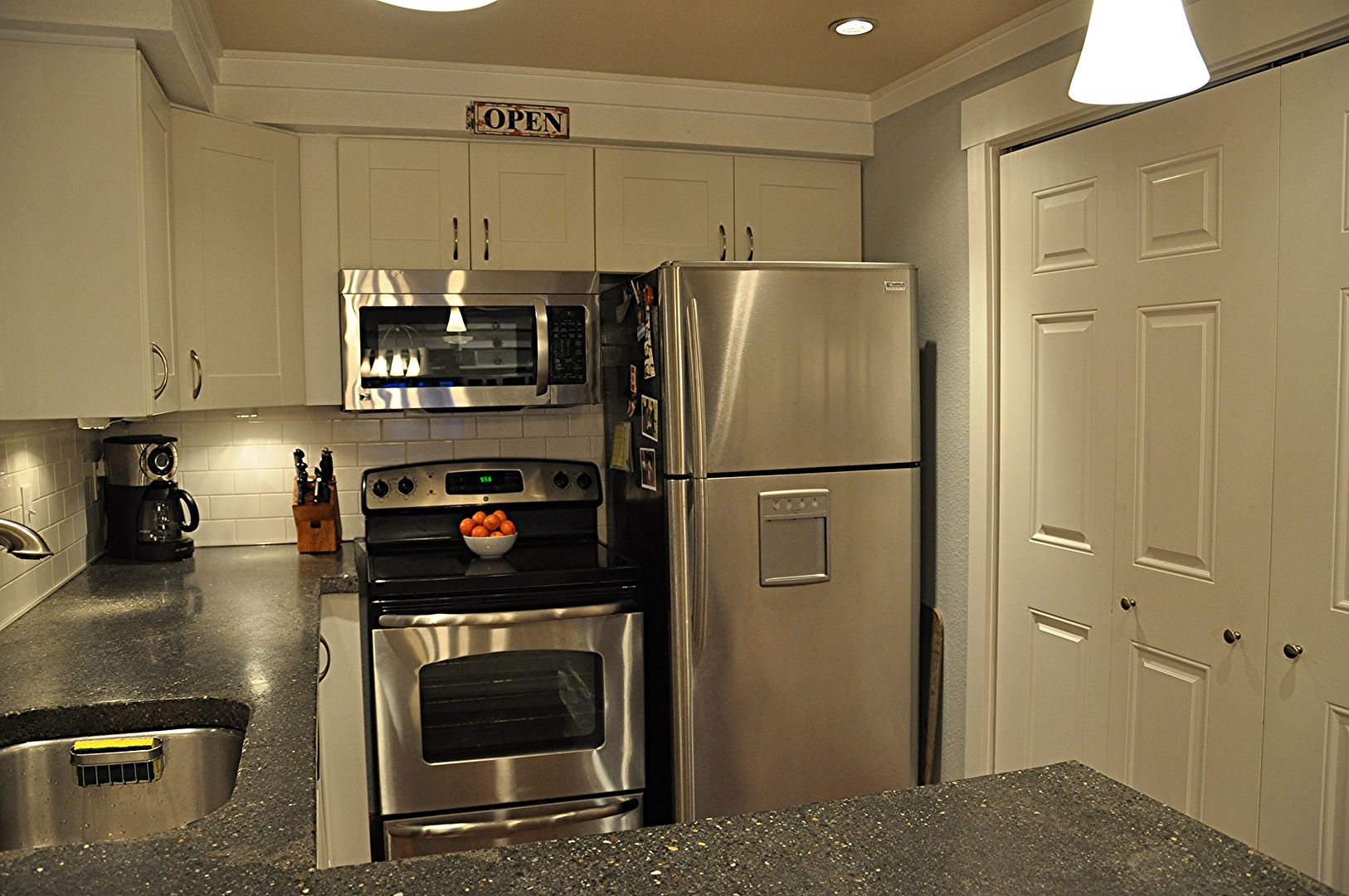 I am still in L-O-V-E, love with our white Ikea cabinets! Seriously, so much so that I would get these exact same cabinets again without any hesitation! They have held up beautifully! (This really means something! I have three boys, remember!?!)  Way back when we were shopping for kitchen cabinets we didn't have a lot of money to spend and most of our options looked like it. We were thrilled to find these classic white shaker style cabinets at a very reasonable price!
I picked up all of our brushed nickel finish drawer pulls and handles at Home Depot in a markdown bin. I love the way they look against the white cabinets.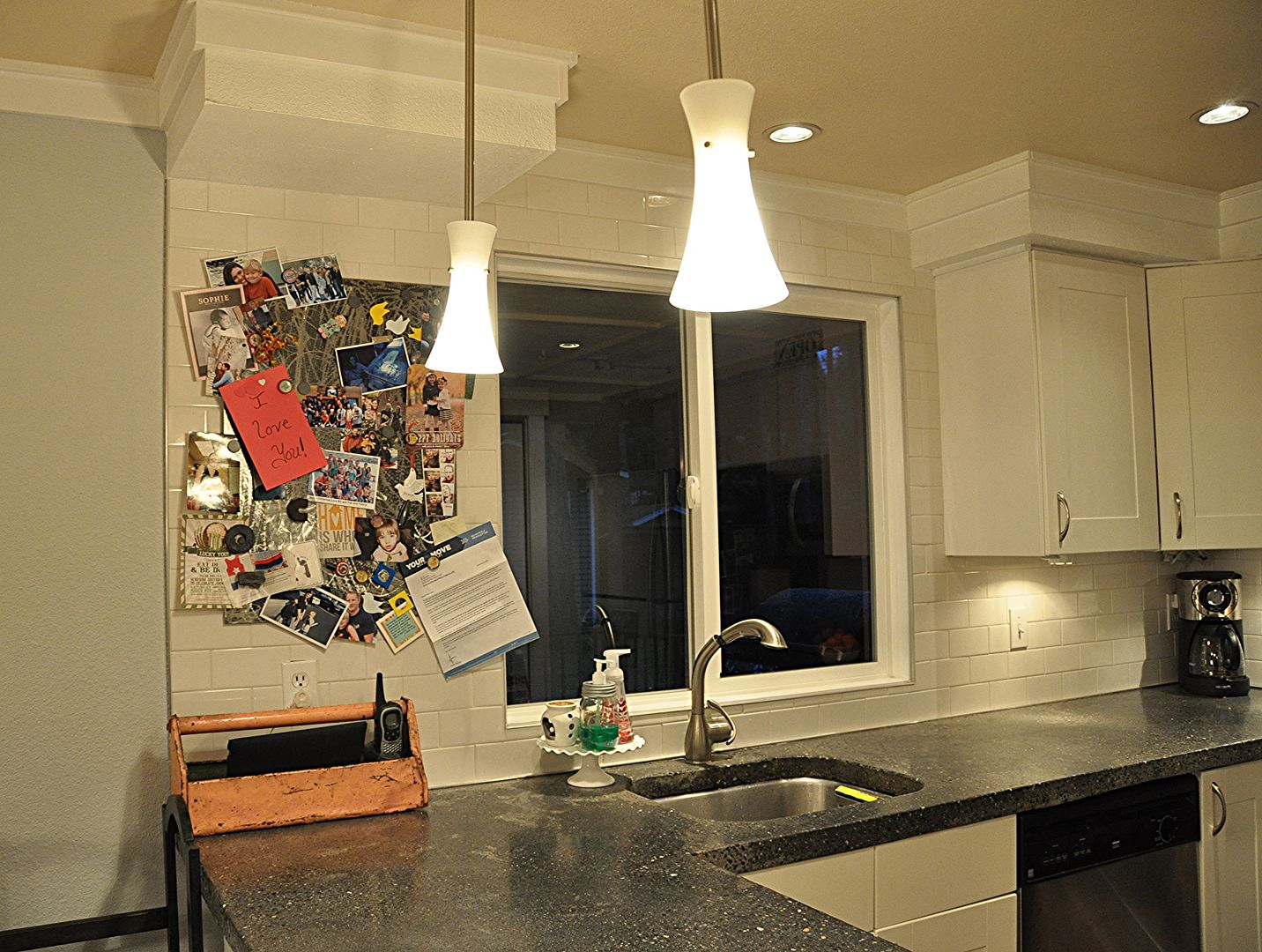 When we first started the kitchen we just took the door off of the cabinet over the peninsula and used it as open shelving. It was such a pain to get anything out of the cabinet. Every time I wanted to get the dishes off the top shelf, I had to climb on top of the counter. Not exactly the way I want to entertain our guests. Once we had a pendent light broken by a horrified guest simply trying to get a bowl off the shelf we decided that that cabinet needed to go. Micah made a metal bulletin board for me out of stainless steel & while he hates how messy it always looks, I love it! Whenever we have people over they always spend time looking at the board. I even have a girlfriend who gives me pictures specifically to put up there. (She actually did a little cheer when her family "made the board" it was so funny!)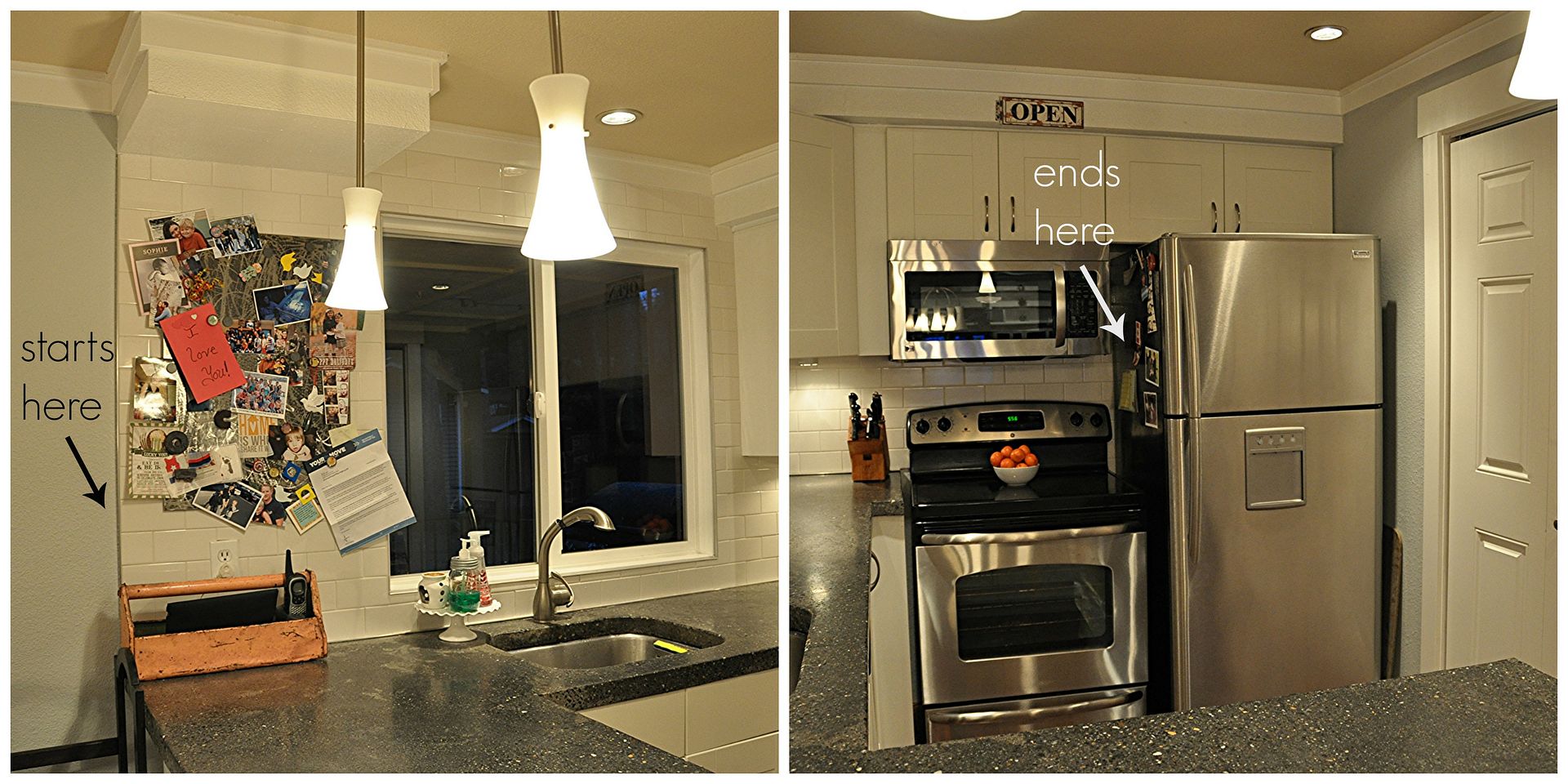 I wanted a tile backsplash and Micah was able to score a bunch of white subway tile (for free!) so that decision was basically made for us. Another classic that is still gorg today! Since our kitchen is so small, we decided to take it from the edge of the counter all the way around to the refrigerator. I'm really glad we did, it looks so clean and fresh. I think had we done it any other way it would have visually broken up the space too much making our small kitchen look even smaller.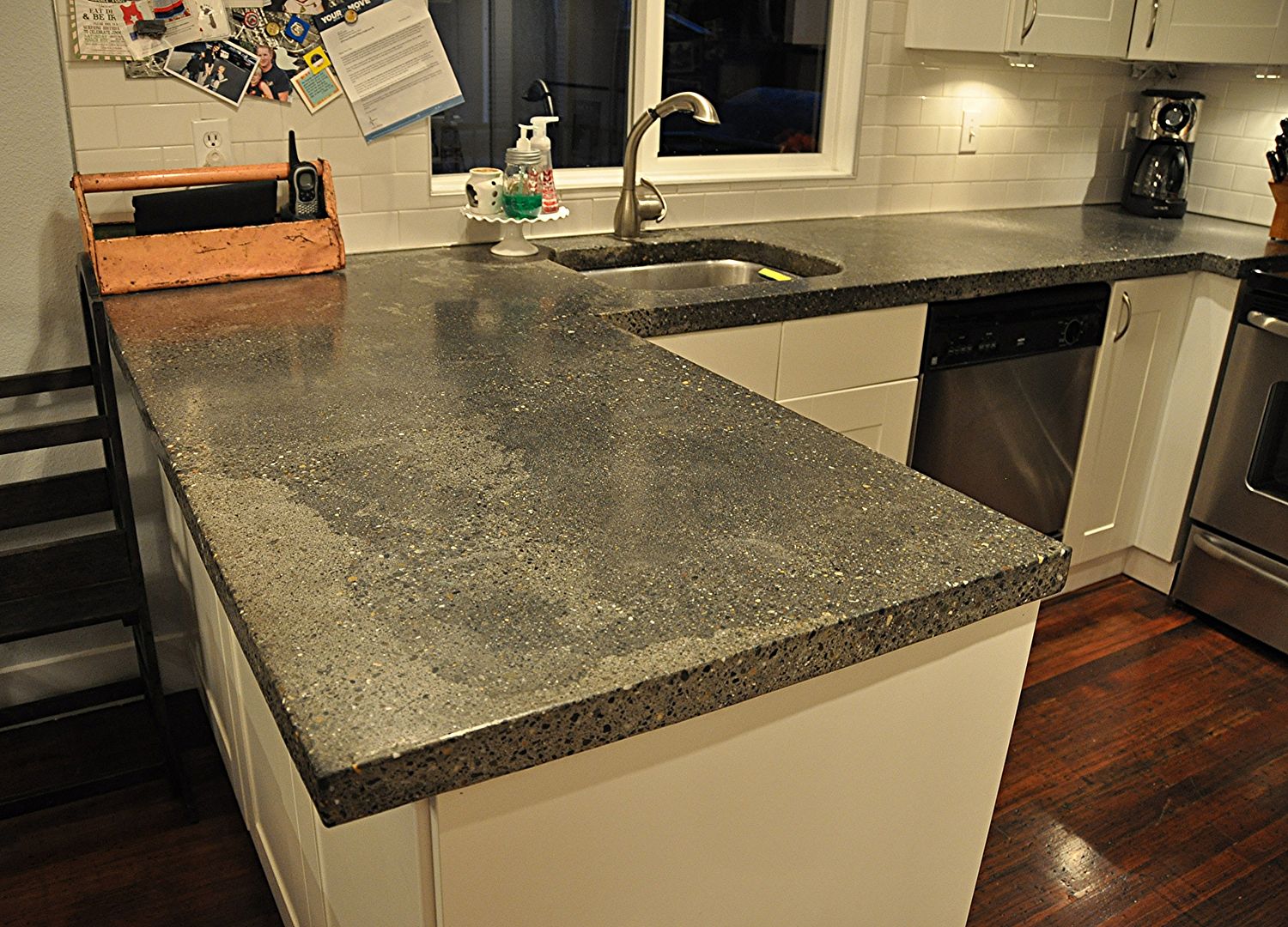 Our counters are my absolutely favorite thing in our kitchen! They are concrete and totally DIYed! (So sad that this was pre-blog days!) I love the color & texture of the concrete. I truly believe that I will always have white cabinets and concrete countertops in every kitchen I own. (You can all call me out if that ends up not being the case.) We originally were going to go with marble because a friend of Micah's had this amazing piece of marble that he was just going to give us! Unfortunately, with that marble there was going to be a huge seam right above where our dishwasher is.
Free is fabulous, but I knew I'd hate the seam. His friend generously took us to this amazing granite/marble warehouse to let us choose a slab (at cost…again amazing!). However, I found that I have extremely expensive taste. The marbles & granites that I liked had a lot of texture & movement which translated to $$$$$! It didn't make sense for our home for resale plus we couldn't afford it anyway. That's when Micah came up with the positively brilliant idea of making a concrete counter top. He made the whole thing on our back porch (huge mess, but SO worth it!) and a couple of friends helped him install it. Love it!! (If you want to do this yourself and would like some tips from Micah email me at dolendiaries@gmail.com)
On the back side of the peninsula facing into the dining area we have a cabinet that I wasn't willing to lose. (It stores quite a bit!) Having just the one cabinet door on the back of the peninsula would have driven us crazy. To solve this we picked up two extra cabinet doors and installed them as dummies to camouflage the real cabinet door. I like the extra detail this created.
Ahhh…the floors. I think these are our best freebie ever! We scored these from a 1930's farmhouse in a nearby town. The wood is a type of fir that you can't find anymore which makes them even more special. Our plan was for Micah to install the floors, sand them down, distress them, and finish them using a dark stain. Everyone who saw the floors all sanded and ready to be finished thought we were insane to distress these amazing floors. (Keep in mind that this was a little over 6 years ago and was a bit before the distressed wood craze had hit. So ahead of our time! Ha!)  However, we were totally right to distress them. Yes, the floors would be have been beautiful but the first ding or dent would have completely ruined them. Let's face it, a family lives here and there have been lots of dings and dents. Distressing the floors made it so all of our "oops" simply adds more character. I, for one, have added a lot of character to the floor and am thankful every time I drop something that I don't need to stress out.
Can I pick your brain a little please?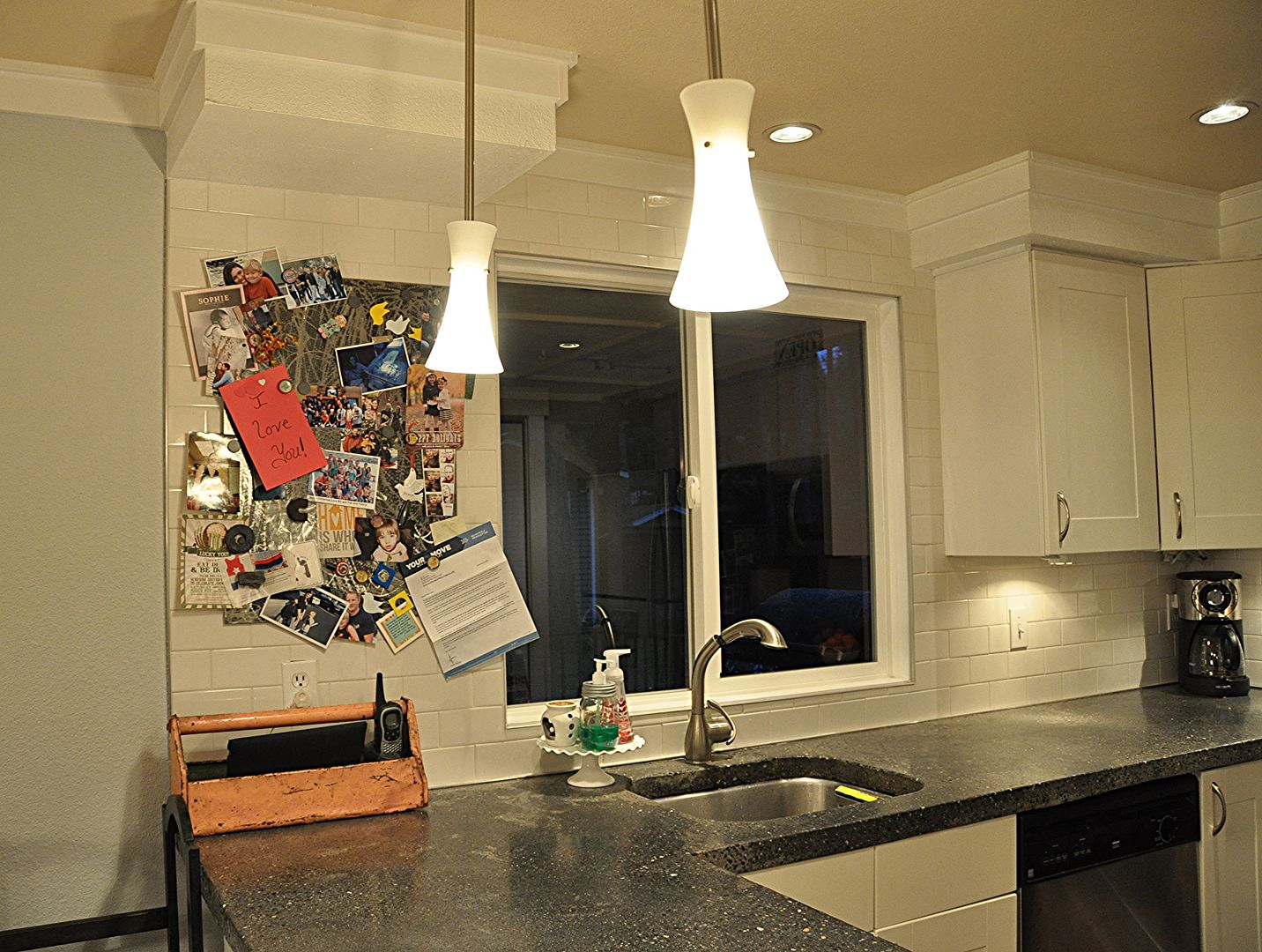 We live in a wooded neighborhood in the PNW and have a covered porch right outside of the dining area and kitchen windows. This combo makes for a darker space so I don't want to cover up this window with blinds but I feel like it needs something. Something that won't take away from the little bit of light that comes in  or get in the way while I'm working in the kitchen. Any suggestions?
Oh and here's a shot from the kitchen, through the dining area, into the family/TV room. Yes, that's the TV on to keep the littles happy while mama took some pictures. Sometimes you just gotta do whatever works!
Hope you enjoyed our home kitchen mostly afters! Click here for where I linked up.