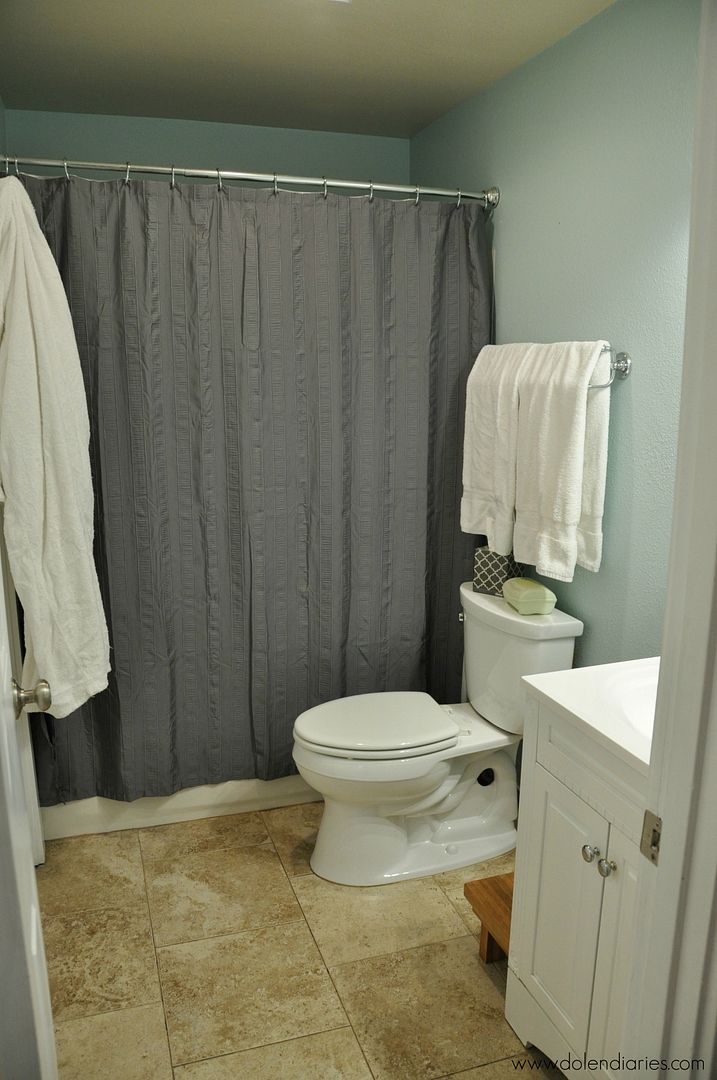 As promised here is our how our hall bathroom looks today! It's not a real "after" because I have a couple of things I still need to do. We basically gutted everything but the tub shortly after we moved in. It's a pretty basic bathroom remodel and if we were to redo the floors today I choose that amazing tile that looks like hardwood.  Isn't that stuff cool!?!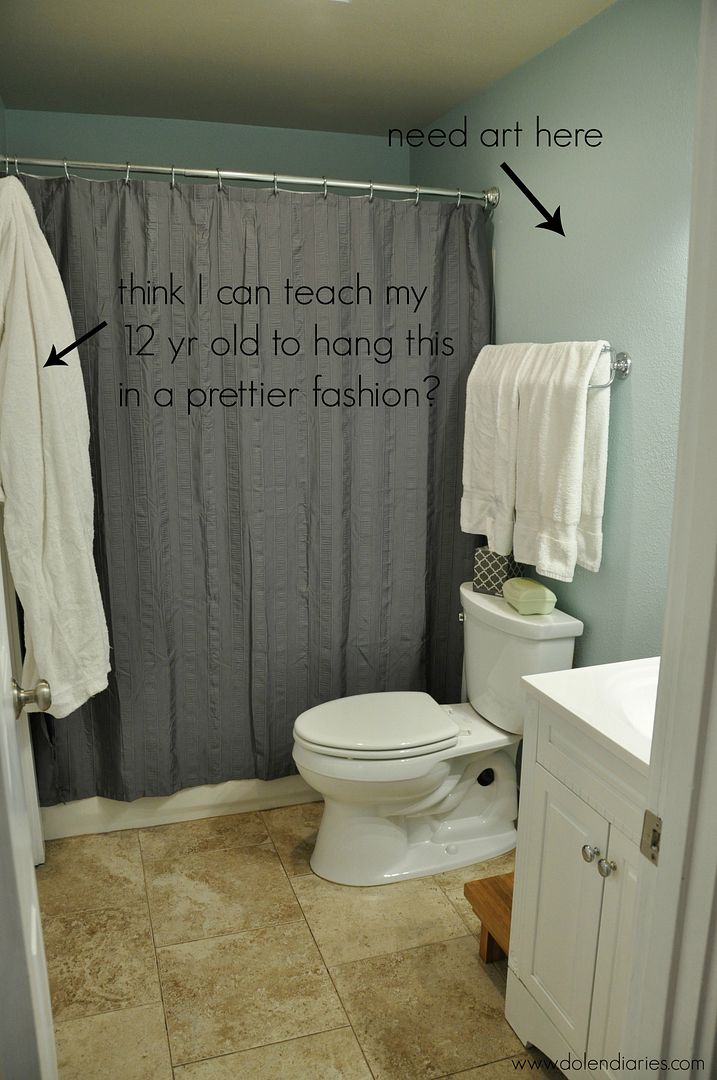 I actually shouldn't complain about the robe not hanging pretty because at least he hangs his robe up, but it looks like a rumpled mess. Oh well, we definitely DO NOT have a show home and I'm okay with that. However, I am not okay with the lack of artwork and personality in this room. It has to hang kind of high on the wall and be something that isn't too girly but is good for a guest bathroom. Any suggestions? Seriously, let me know if you have an idea, I'd love to hear it!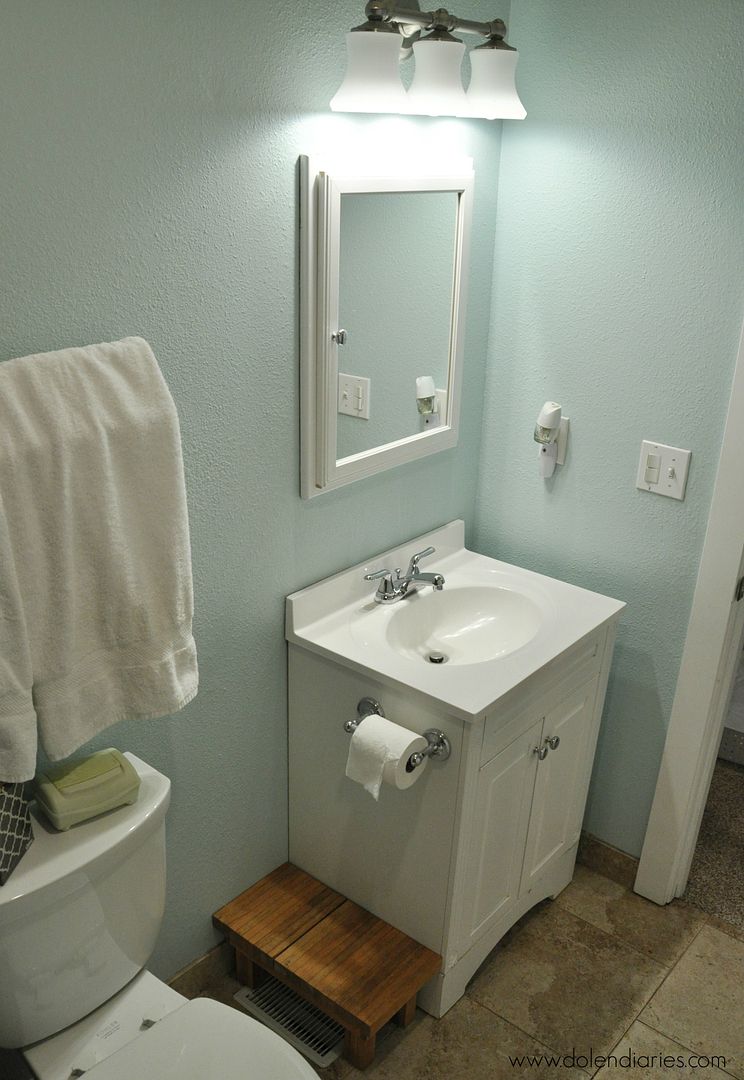 We replaced the mirror, the vanity, and the light with classic looking pieces from Home Depot. I know people think white is a bad color for boys or children in general but I love white for kids. It's SO easy to see where you need to clean. I like seeing the dirt so I see the results when I'm done. I think it also helps them recognize how dirty they are. If it's not in your face look at the mess you are making, my boys don't notice it. I do wish we had a little more counter space. I usually have a soap pump on the counter but we ran out so it's on the kitchen counter to remind me to fill it. I also don't use hand towels. Gray hangs his towel with his robe and the littles take baths in the master bathroom. I like having full size towels to dry hands especially when we have company. There is more room to dry. I don't like it when you go to someone's house and their hand towel is wet so there is no place to dry your hands. If you have a few guests chances are your hand towel will be wet by mid event.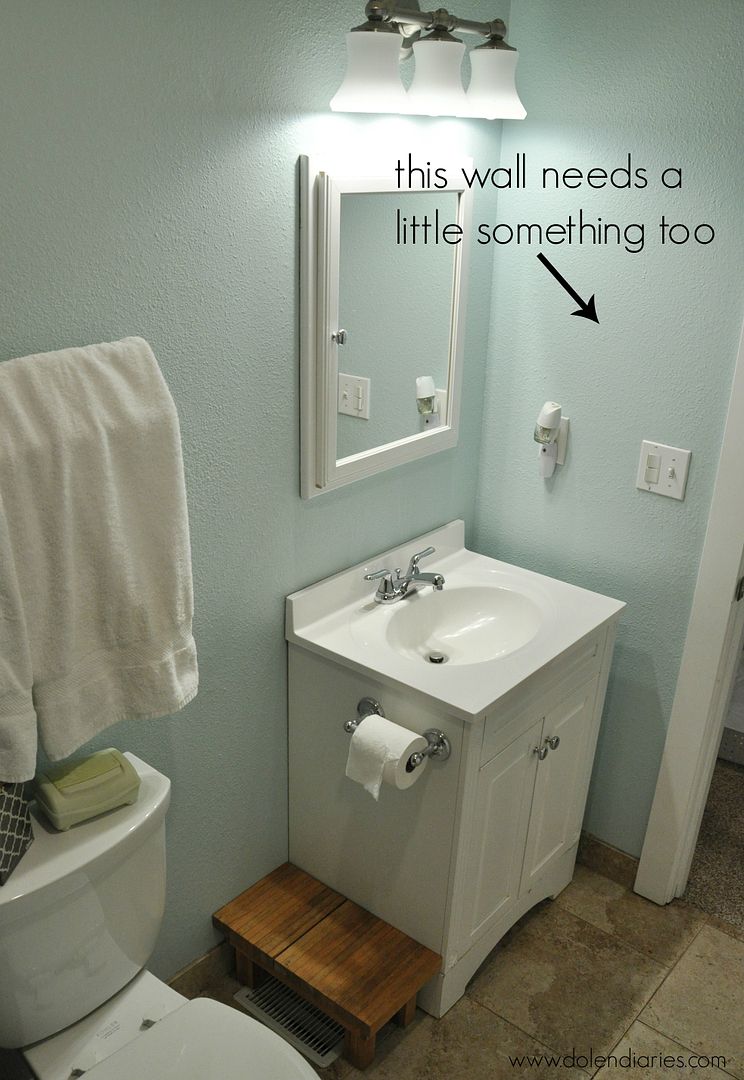 Don't you think? I have been toying with the idea of putting a mini chalkboard there with the boys' memory verse so they can practice while going potty or brushing their teeth. I'm not a 100% so what do you think?
Now on to the laundry closet…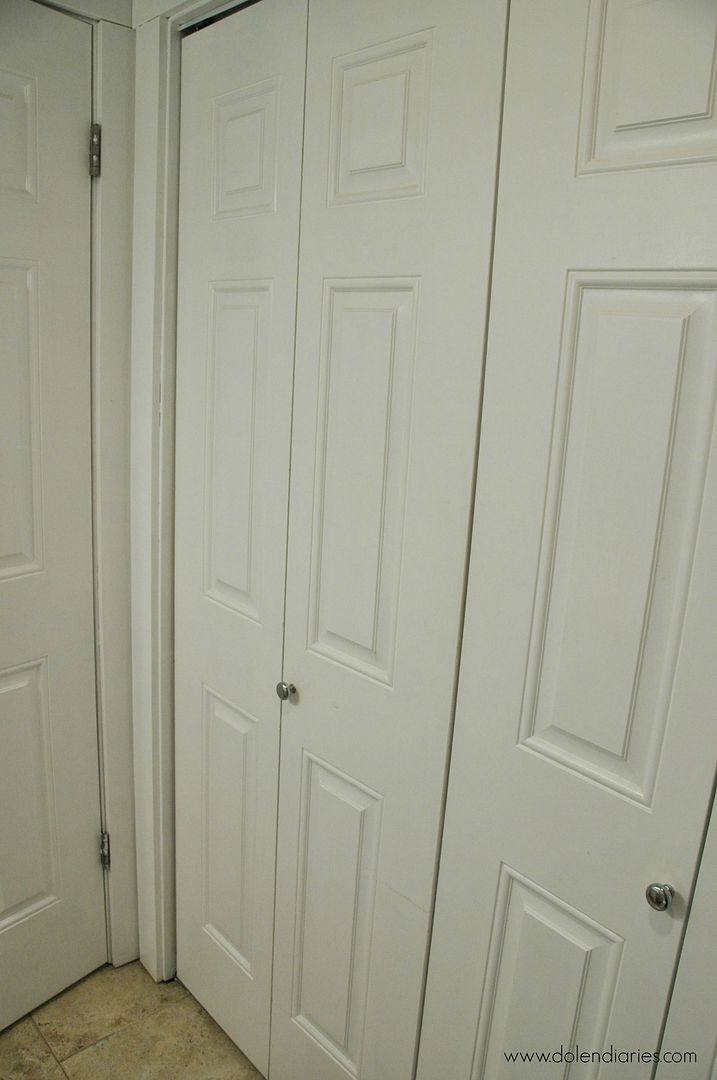 We have doors! It's actually quite impressive how much noise these bad boys block. Plus this side of the room is basically all white adding a lot of bright to a smaller space with no windows. Now for the inside of the laundry closet…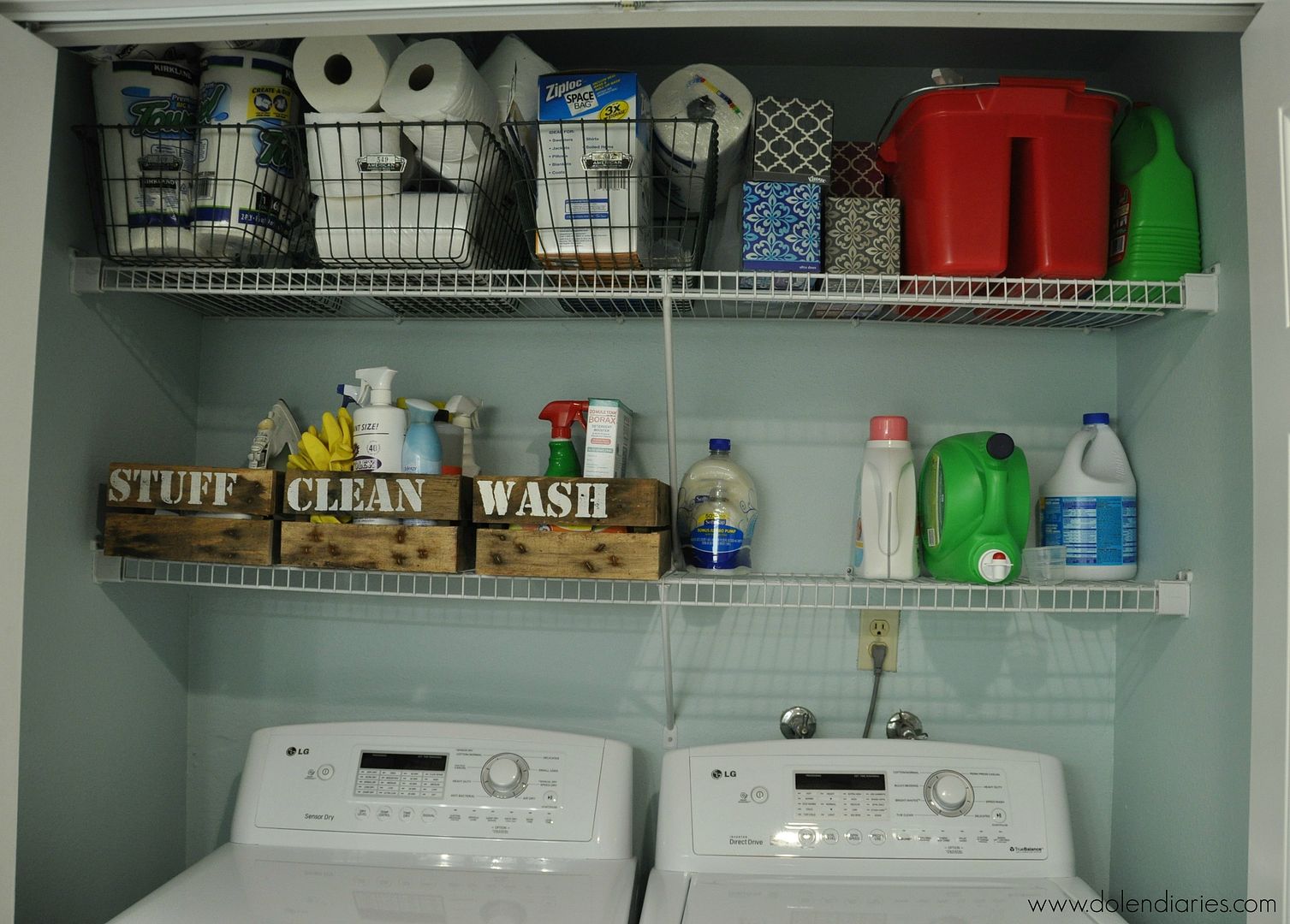 I was in desperate need of organization in our laundry closet. While there was plenty of shelf space there wasn't a real spot for anything making it difficult to locate the things I needed when I needed them. Doesn't that make you frustrated just reading about it!?! That was my laundry closet life…frustrating! So I decided to do something about it. I scoured all of my favorite blogs and Pinterest to get some inspiration and you know what I got a lot of AUH-MAZING ideas but then I remember the zillion other projects I wanted to do and well my laundry closest seemed a little less important. So instead of installing a gorgeous mini chandelier; ripping out the wire shelves we installed shortly after moving in and building beautiful custom shelving; purchasing matching glass containers in a variety of sizes to store all of my laundry essentials; I went for clean, functional with a little splash of style, and cheap. I know it doesn't make for the most fabulous Pinterest worthy picture but I must say it works for me!
While I'm not into spending a ton on this space I do want to add a little something to this side wall to just make it a little special for me. I'm basically the only one who ever opens these doors so whatever I hang here will just be for me.  So many choices!!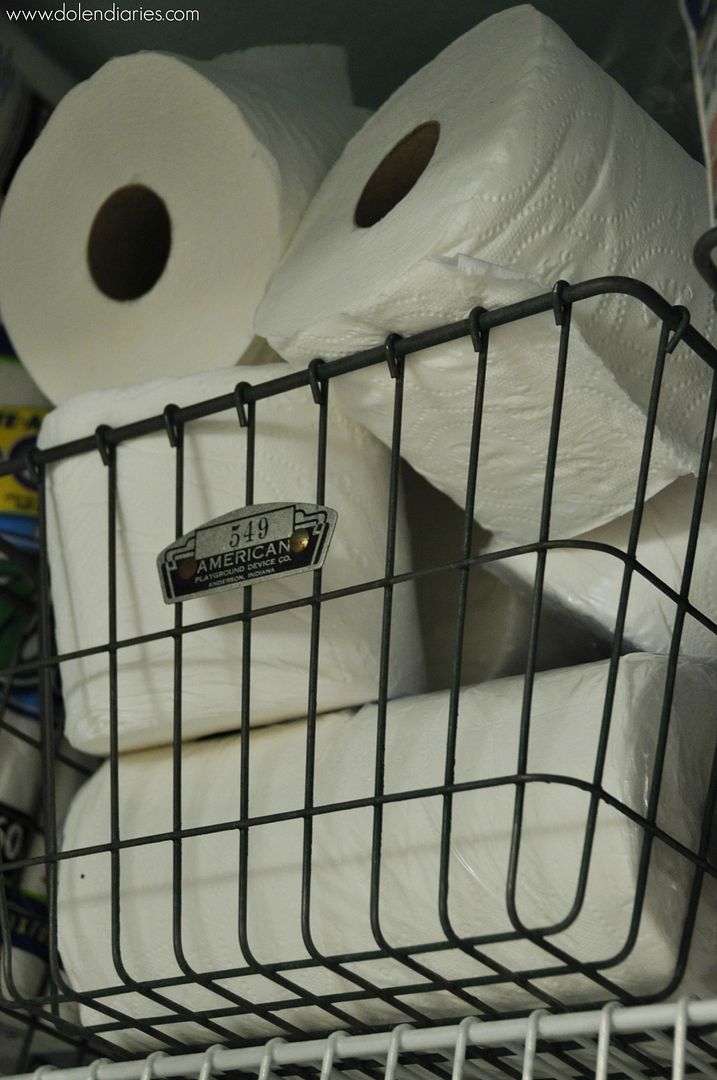 We got these awesome vintage wire locker baskets from a local Saturday Market about a year ago and they make the perfect storage solutions for toilet paper and paper towel rolls. But my favorite laundry closet storage is…
 Pallet wood storage crates! Want to know how to make them!?! Pop back by tomorrow morning and I'll show you how!
~Shelly