When we moved into this house there were two phone jacks, one in the master bedroom and the other in the dining area. We really didn't want to have an ugly phone hanging right by our table so we splurged on a vintage looking phone from Pottery Barn. Sadly, it recently died and since we have a cordless phone in another room we decided not to replace the PB phone. The problem was that we still had the phone jack staring at us at every meal. I didn't want to go through the hassle of patching drywall so I went with the "let's just cover it up" method. I have been an admirer of the variety of chalkboards and chalkboard art that has been swirling around blogland for quite a while now and this cover-up mission was the perfect opportunity to create my own DIY Chalkboard.
I grabbed a tape measure and played around with a variety of lengths and widths before coming up with my VERY custom size of 23.25″ x 60.75″.
My ever so sweet husband grabbed a sheet of quarter inch underlayment from Home Depot on his way home from work and even cut it to the specific size I wanted while I finished throwing dinner on the table. After dinner, I sanded the underlayment smooth (quarter inch underlayment is already pretty smooth which makes it perfect for chalkboards); wiped it down with a cloth; and blew it off with the air compressor.
I painted about 5 thin coats of chalkboard paint (click here for more detailed explanation of how exactly I paint with chalkboard paint to avoid any paint ridges.), seasoned the board, and it was ready for a frame.
We had some reclaimed 1 x 2 in our scrap rack which was simply cut at 45 degree angles to make a classic frame. I liked finish that was already on the wood and since it was going to be inside I left it as is. (I have no idea where it was reclaimed from. Micah often brings home "reclaimed" wood that he thinks looks cool, knowing we'll use it on something. I love it when he does that because when I have a project in mind I just tell him about it and he usually says, "We have the perfect wood for that in the shed." The more projects I can get out of the scrap rack for free, the more projects we get to make! You KNOW this girl loves a project!)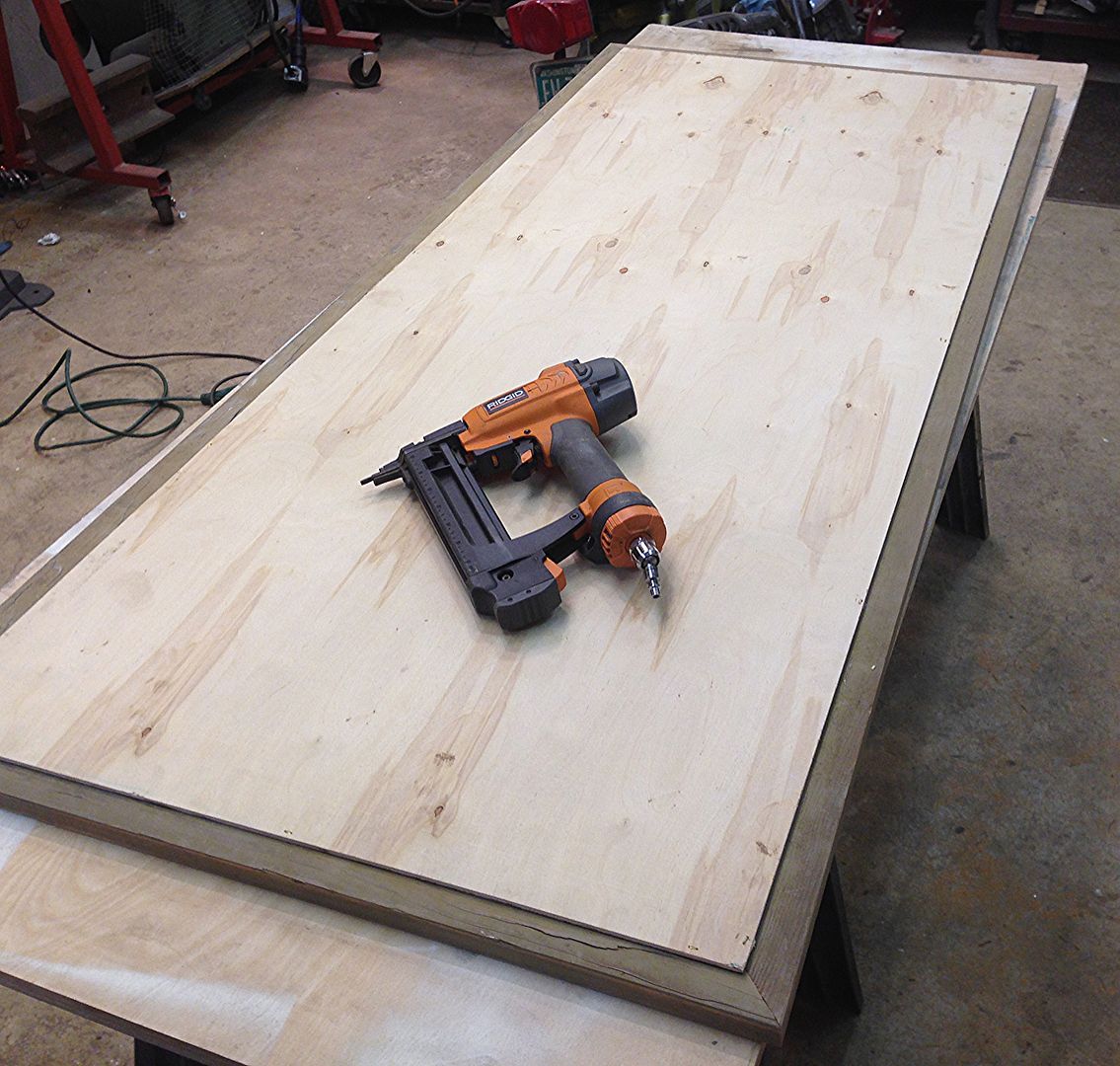 I didn't want to have nail holes on the front, so we laid out the frame on our work surface, placed the painted chalkboard face down onto the frame, and nailed it to the frame through the back of the chalkboard.
Attached a wire to hang on the back and this DIY Chalkboard was done!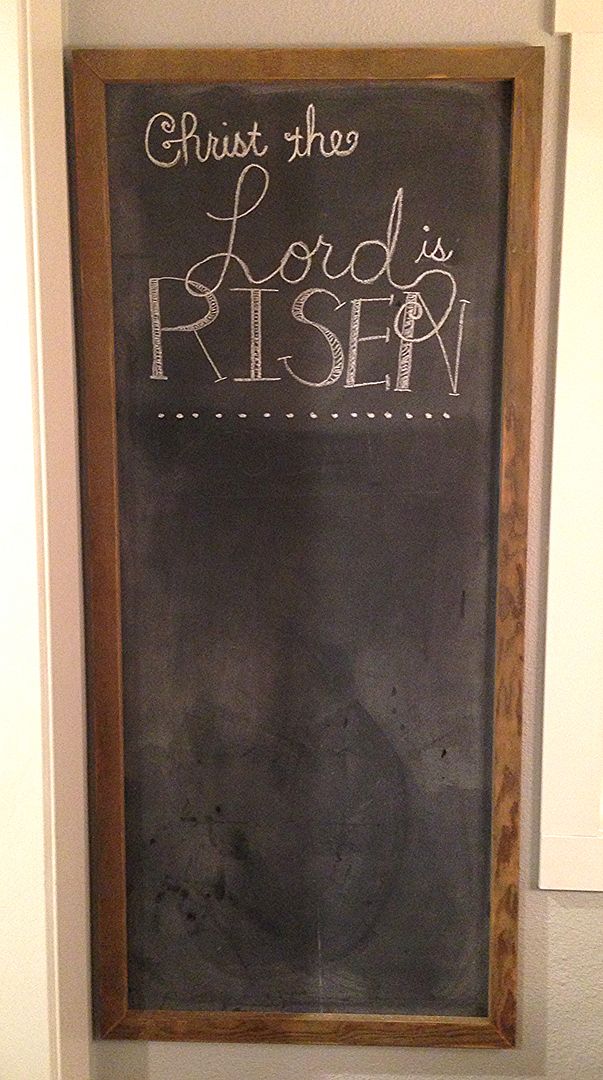 I've played around a bit with making my own chalkboard art (I need more practice to get to the level of some of you girls!) and the kids have enjoyed creating some art, too. We had "Everything is Awesome" on our board for quite a while after the Lego movie came out.
If you have a space odd space in your home that you have been searching to fill why not create your own DIY Chalkboard!?! It's DIY so you can totally customize the size and shape to fit your needs and when people come over and say something about your cool chalkboard you can say you made it. Which let's be honest, is one of my favorite things to say.
Happy Chalkboard Making!
Check out where I linked up here!