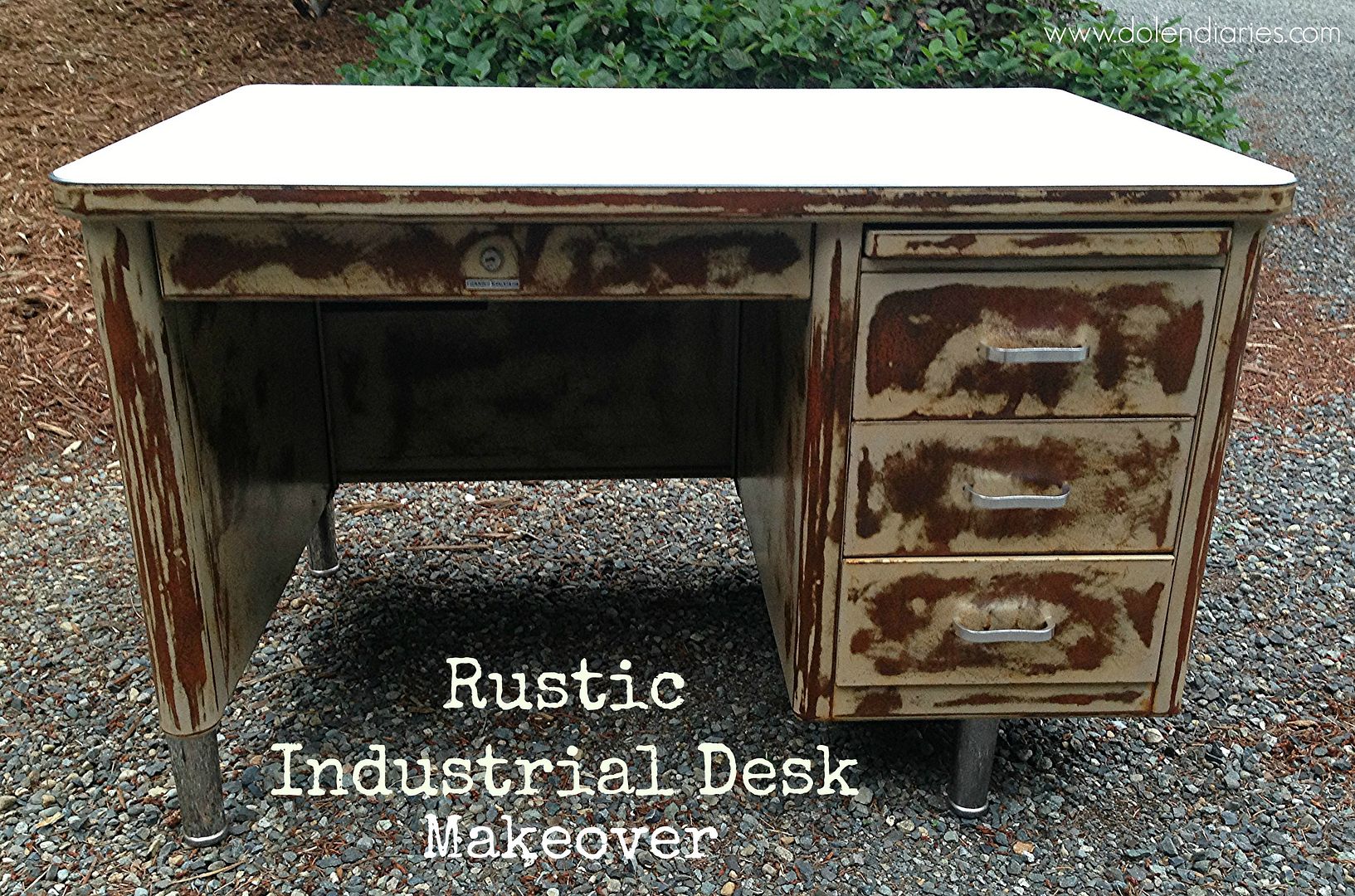 This fall, I shared my rustic industrial desk makeover at Design Dining + Diapers and I'm SO excited to be sharing this with you guys today! The Dolens are big fans of the rustic industrial style. It's manly enough for the Mr. and lends itself to decorating with contrasting girly styles that I love adding touches of.  Check out how I made over and old metal desk into a really cool rustic industrial piece!
Here is the before. I actually used it in the driveway (classy, I know) as a project table for months. It was beyond dirty and before I could do anything I needed to give it a good scrub down. Luckily for me it had actually been really nice and sunny here in the PNW so I didn't need to worry about drying. A day tipped on its side with all the drawers open, dried it perfectly.
After the desk was totally dry, I popped off the pulls and it was time to sand. I used a 5 inch random orbital sander and started with a 60 grit sandpaper just to give it a quick scuff. (60 grit would take all the paint off in a hurry so don't over do it with this) After the scuff, I switched to a 120 grit to focus more where I thought the desk would have had the most natural wear and tear. To buff it all out I used a 220 grit. *The grit number is the number of grits (is that a word!?!) per square inch. So the lower the number the more rough the sandpaper.
After the sanding was complete, it was time to blow all the dust particles off. This was where I got our 11 yr old involved, it is going to be his desk after all, and he used the air compressor to blow the whole desk off and all the drawers out. Next, I used old cardboard to cover the desk top and shop towels to cover the feet of the desk to protect them from the rusting solution I used.
To create my rusting solution, I mixed a 50/50 solution of bleach and white vinegar in an empty spray bottle. You can get these spray bottles at Home Depot for cheap, I like to stash a few just for projects. I sprayed all the sanded exposed metal and within a couple of hours it was rusty. *This is a SUPER smelly process so I would highly recommend doing this outside and not in your garage. I did this right in our driveway by our open garage door with a fan blowing the air out and plenty of fumes wafted in our house. I can only imagine how bad it would have been, had I done this actually in the garage.
After leaving the desk to air out overnight I sprayed a coat of lacquer all over the body of the desk. A couple hours after that I put a coat of wax on top of the lacquer. *Here are my favorite brands to use.
After the wax it was time to pop the pulls back on. I love the way it turned out!
Now you may be thinking that's a really cool idea but where can I get my hands on a metal desk? School sales…call your local districts and/or universities and ask them if they sell surplus items. Most school districts have sales once a year and some universities have weekly sale days. If you go please let me know, I'd love to see what you find!