I've never done this before but I'm super excited to have a word for 2014. My word is BALANCE because well I need it. I've been feeling quite wonky these past couple of days, weeks, months, years….you get the point. I used to be the queen of the working mama balance. One would think being home that it would be easier to find balance but I think it's actually a little harder.
I am a person who thrives on structure. A million things on my list? No problem as long as I have a structured schedule. Being home doesn't provide that super structured schedule the way being at work does. I taught so when I say I had a structured schedule, I really mean it! There were set times that I could use the bathroom. However, at home the day is my oyster. I can make it into mostly whatever I want it to be. Which on one hand, I love the flexibility. On the other…I can literally spend the entire day cleaning and there will still be more to do. Those of you with small children know that they undo as you go. It's quite a nasty cycle. Or I can spend the day creating awesome memories with the boys and then cringe when someone comes to the door because my house looks like it was ransacked by a gang of robbers. I can get a million projects done, but then not have time to exercise or forget think about what I'm making for dinner. I can exercise…oh wait I hardly ever choose this one but today I did! Woot! Woot!
One of the quirky things about me is that while I crave structure, I have a hard time creating it for myself. If I have all day to do something, I do a zillion other things and then find myself panicking to get the one thing I needed to get done, done. Man, I sound like a train wreck don't I!?! To be honest, I have kind of felt like one. I need my balance back. So that's what 2014 is all about for me…BALANCE.
Here's my checklist to get my balance back:
 Daily Schedule (to include: cleaning, exercising, quite time, project time, time with each of the boys, time with Micah)
A place for everything and everything in it's place. We simply need to get rid of some of our stuff.
Get my body back. I think at some point I loaned it to grief but it's had it long enough and I need to make it mine again.
Say NO & limit my outside obligations. Yes, I am a stay at home mom now. However, this does not mean that I am not busy. I have quite a lot on my plate and I don't have to feel bad about saying no. Even if it's to really awesome stuff. My job is to be a wife and mother right now. There will be time for other things at a later date.
Spend more time with God. He can help me find and maintain my balance.
So now that I've shared my word. I thought I'd share what Gray & Ash have chosen.
Gray chose the word DILIGENCE. He's really working on getting the grades he is supposed to be getting and not the ones he has been settling for. Seriously, the kid is smart. He knows it, we know it, his teachers know it, but sometimes the lazy bones take over and he just doesn't get his stuff done or forgets to turn it in. But that's all changing this term because he's going to be diligent and knock all of our socks off!
Ash didn't choose a word, he went for a phrase. Kindergarten can be tough with so much to learn! He started giving himself little pep talks saying, "I got this!" I got this!" as he worked on more challenging things like handwriting. Once he's worked through he looks at me and says, "Told ya, I got it!"  He actually says it in kind of a smarty pants way which isn't my favorite, but we'll work on that later.
Since it's the first day back at school from break I thought I'd surprise them with signs to help them remember their words for 2014.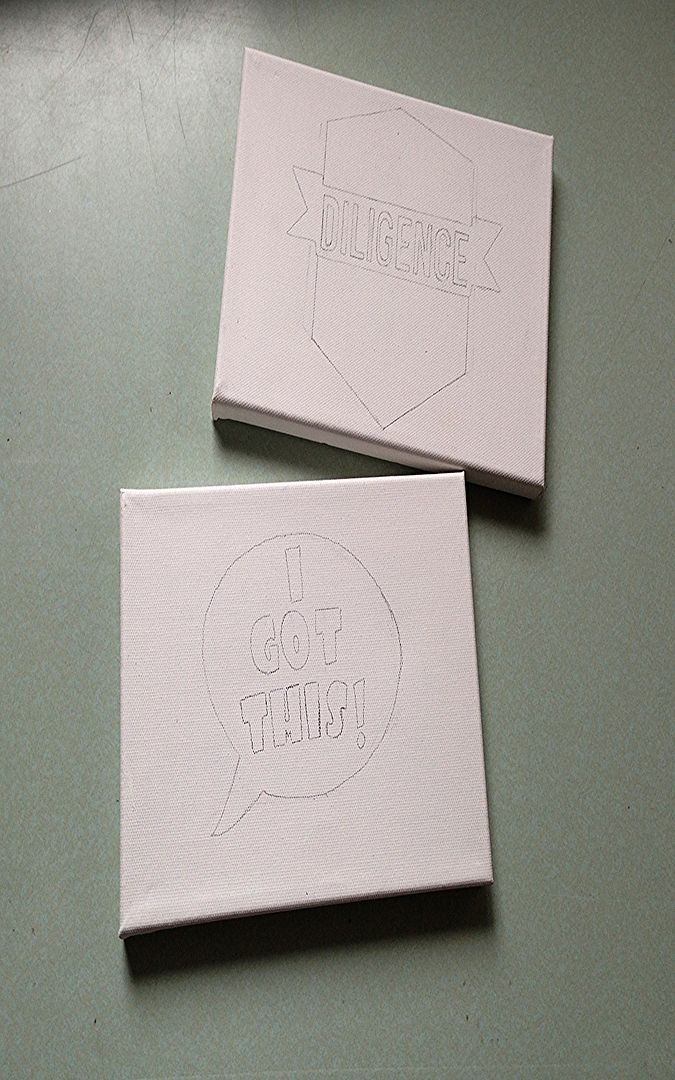 On plain 6×9 white canvas', I sketched the designs with pencil. I looked at shapes and fonts on the computer and copied them the best I could.
I filled the designs in with craft paint and added a bit of flair with stripes and polk-a-dots.  I can't wait to see their faces when they see their signs!
Did you pick a word for 2014?