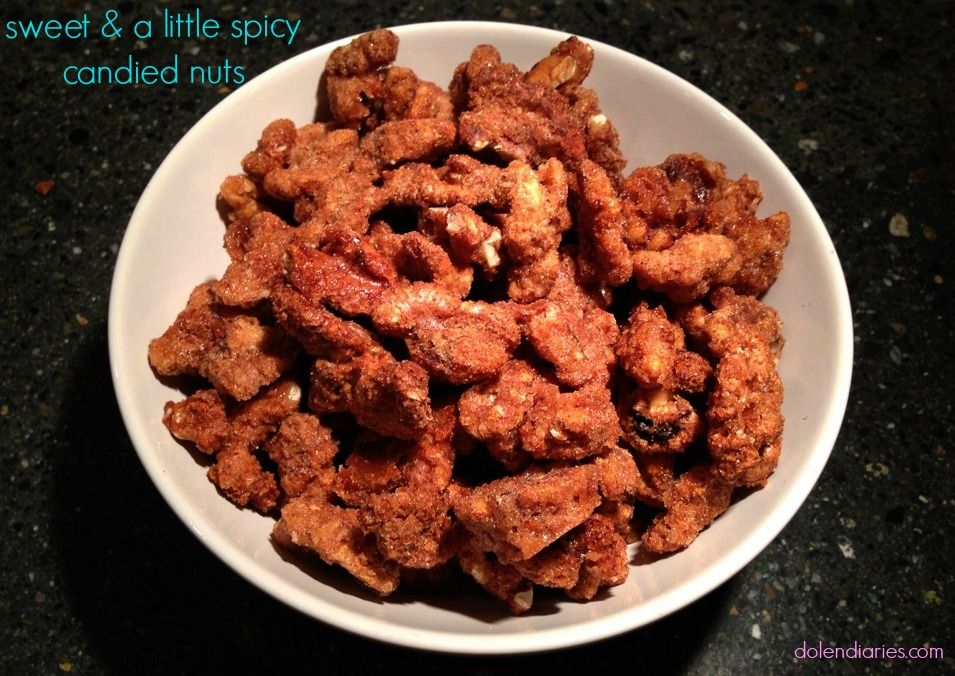 These sweet and a little spicy candied nuts are great in salads or for munching on straight up. Every time I bring these yummy candied walnuts to a girl's night they are a hit! Here's the recipe so you can make your own….
1/3 cup dark-brown sugar (I didn't have any and used light brown and it worked just fine!)
2/3 cup white granulated sugar
1 teaspoon kosher salt
1 pinch of cayenne pepper
1 teaspoon ground cinnamon
1 lb. nuts (I like walnuts & pecans…almonds get too hard & crunchy for my taste.)
1 egg white, room temperature
1 tablespoon water
Preheat oven: 300 degrees
Mix sugars, salt, pepper, and cinnamon. Make sure there are no lumps & set aside.
Beat egg white and water until frothy.
Add nuts to egg white mixture to coating evenly.
Add sugar mixture to nuts and toss until coated.
Spread nuts on cookie sheet. *Parchment paper is a good idea if you have some on hand.
Bake for 30 minutes, stirring occasionally.
Remove from oven and cool.
*These make a nice little gift, too!