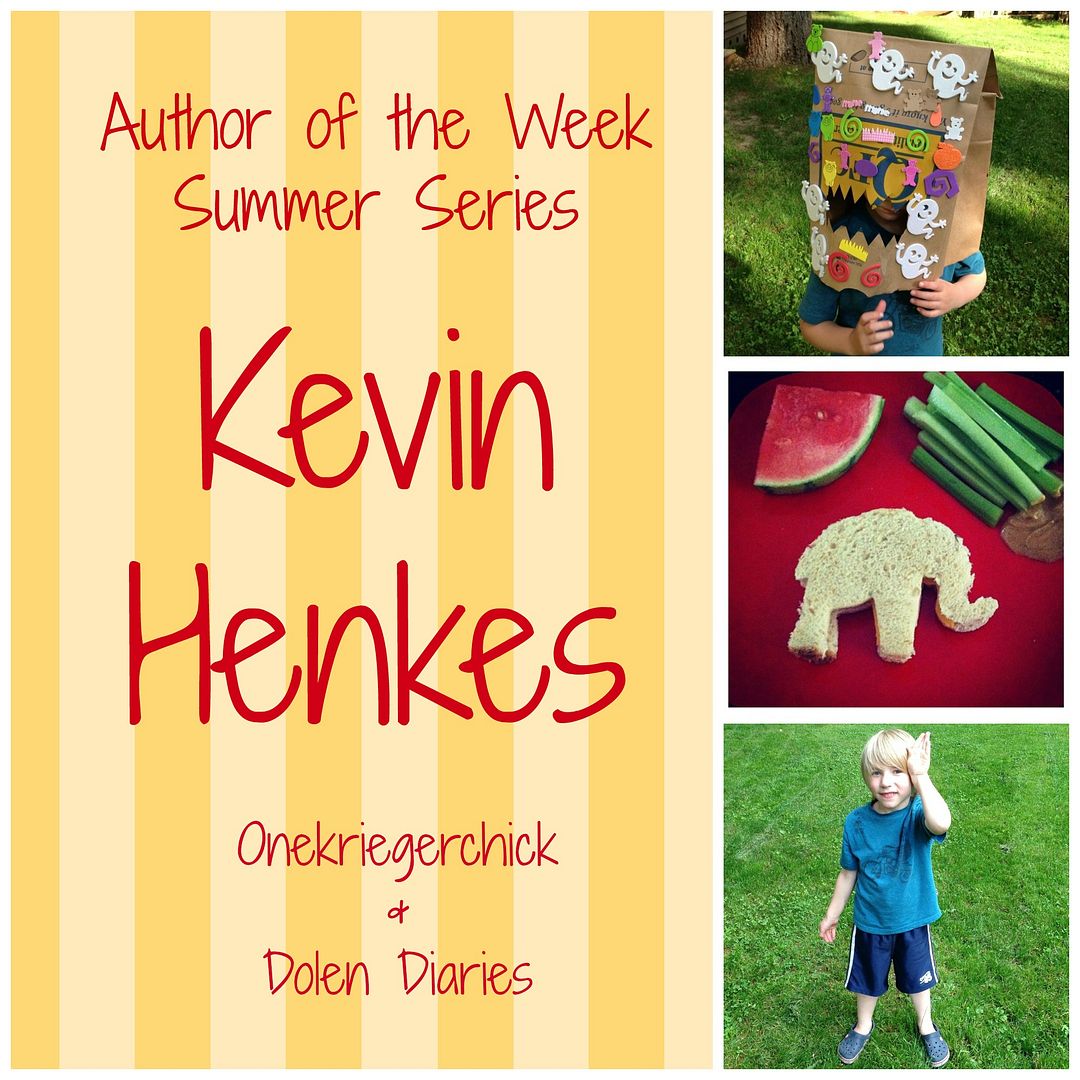 I adore Kevin Henkes books! Ironically, even though I am terrified of rodents his books with mice as the main characters are actually my favorite ones! They are all so quirky yet loveable and there is always a fantastic lesson learned at the end of each story. Lily from Lily's Purple Plastic Purse is SO spicy and her sense of style is amazing! Owen with his blankie reminds me of my Ash with his kiki. You should have seen his eyes light up when he realized we were reading a story about a blankie! Although, now he's worried I'm going to cut up kiki and make him/her (it switches depending on his mood) into a dozen handkerchiefs which would not be a good choice or so Ash informed me.
Here are my Kevin Henkes must read recommendations:
Chester's Way
Lily's Purple Plastic Purse
Owen
Chrysanthemum
Sheila Rae, The Brave
Julius The Baby of the World
Wemberly Worried
A Weekend with Wendall
Activities:
Lily's Purple Plastic Purse
Musical Bag
If you had a little lady you could use a purse but since I don't have a little lady and Ash wasn't too keen on using one, we took a back pack and played an iPod every time it opened. It was kind of like freeze dance only it was my job to start and stop the music to when Ash opened and closed his backpack. Every time I missed my cue he would laugh hysterically and tell me I lost. Apparently, we need to work on winning with grace.
Cheesy Snack
I had planned on making these cheese straws but my boys saw an opportunity to buy Cheetos and jumped at the chance so we actually never made the cheese straws but my boys loved their Cheetos.
Chester's Way
Paper Bag Mask:
All he did was take a big paper sack and decorate it. Ash had a blast chasing after the big kids in the neighborhood wearing his scary mask!
Cookie Cutter Sandwiches:
Make a sandwich and cut out the center using cookie cutters.
Bike Hand Signals:
Chester and Wilson are big on bike safety in this story so it was a great opportunity to learn hand signals even Gray learned something new with this one!
*Find more Kevin Henkes stuff here!
Okay so a little confession! We had SO much fun with Kevin Henkes last week but I must admit that my 5 yr old had to put me in check. You see I really wanted to make those cheese straws and make the perfect paper bag mask to take pictures of to put on my blog but Ash had his own ideas. He really wanted to eat Cheetos; play musical old preschool backpack instead of musical purple purse; and make his own paper bag mask with minimal help from me. He wanted to make his own fun and not have me running the show. So let your kids do it their own way. Are the pictures as pretty!?! Absolutely not but the memories are better! Ash will remember playing and having fun not sitting on the side waiting to pose for pictures with fake kid projects for his mom's blog. Lesson learned!
Pop on over to my festive page to see where I linked up!