The big boys had Spring Break this week. They spent most of the week visiting their Nan & Papa Bill (Micah's Aunt & Uncle) having a total blast running wild in the country. Before they left Ash & Micah started building a special step stool together. I can't wait to see how it turns out!
Before the boys headed out to Nan's I took them to get hair cuts. This is Ash's before.
This is Gray's before.
The lady that cut Ash's took more than we discussed off. Micah loves Ash's hair…it's his thing but it'll grow back. Why does this happen the time I take him to get his haircut alone!?!
Gray looks so mature now! It makes me a little sad, but I do have to admit he's one handsome boy!
While the boys were out of town….Kell & I had a play date with Lauren & Sophie. Seriously, aren't they the cutest kids!?! It's slightly blurry but trying to get both of these active kiddos in one picture together was next to impossible.
Lauren and I worked together as kindergarten teachers for years. She's one of those gorg, tall, elegant looking girls that you kind of want to hate, but then she's pretty cool so you don't. Little Sophie looks just like her mama!
Kell & Daddy were having a blast with their car game. Daddy would push the cars at Kell and he would kick them away. We were actually really impressed with his foot-eye coordination. Cars were flying in all directions!
This morning, Kelly and I decided we'd be super fun mamas and take our boys for a boys only hike. First stop was the market to get some kid picked snacks. We decided to be like daddies and let them pick whatever they wanted. No nutrition for our boys!

The Swamp Monster Hike doesn't fully open until April 15th but we still managed to have a good time. We were brave women and took 8 boys (Kelly's 4 boys, my 3, & Ash's friend Evan).

Gray corralled most of the boys by creating Troop Dolen and marching them in a single file line.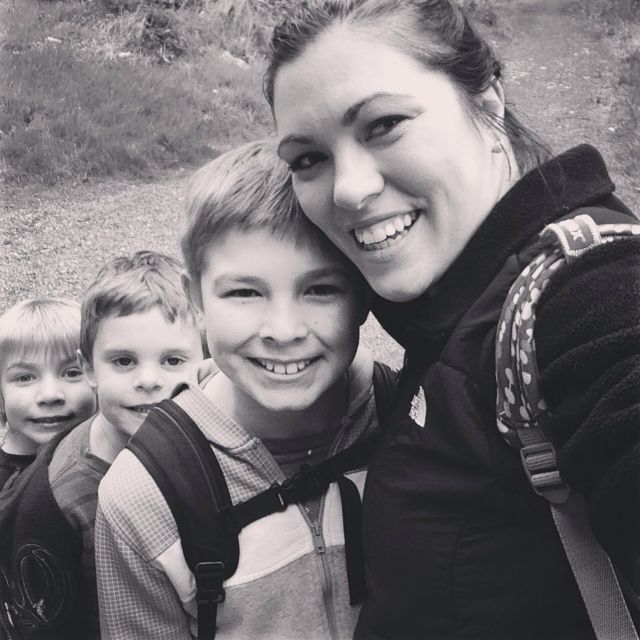 Here we are at the end of our hike. Kell was on my back in the backpack. He really needs to learn how to lean forward for photo opts so he's in the picture. What was he thinking!?! Ummm…that he's a baby & doesn't care about my love of instagraming. Oh yeah, that's right!
Happy Friday!