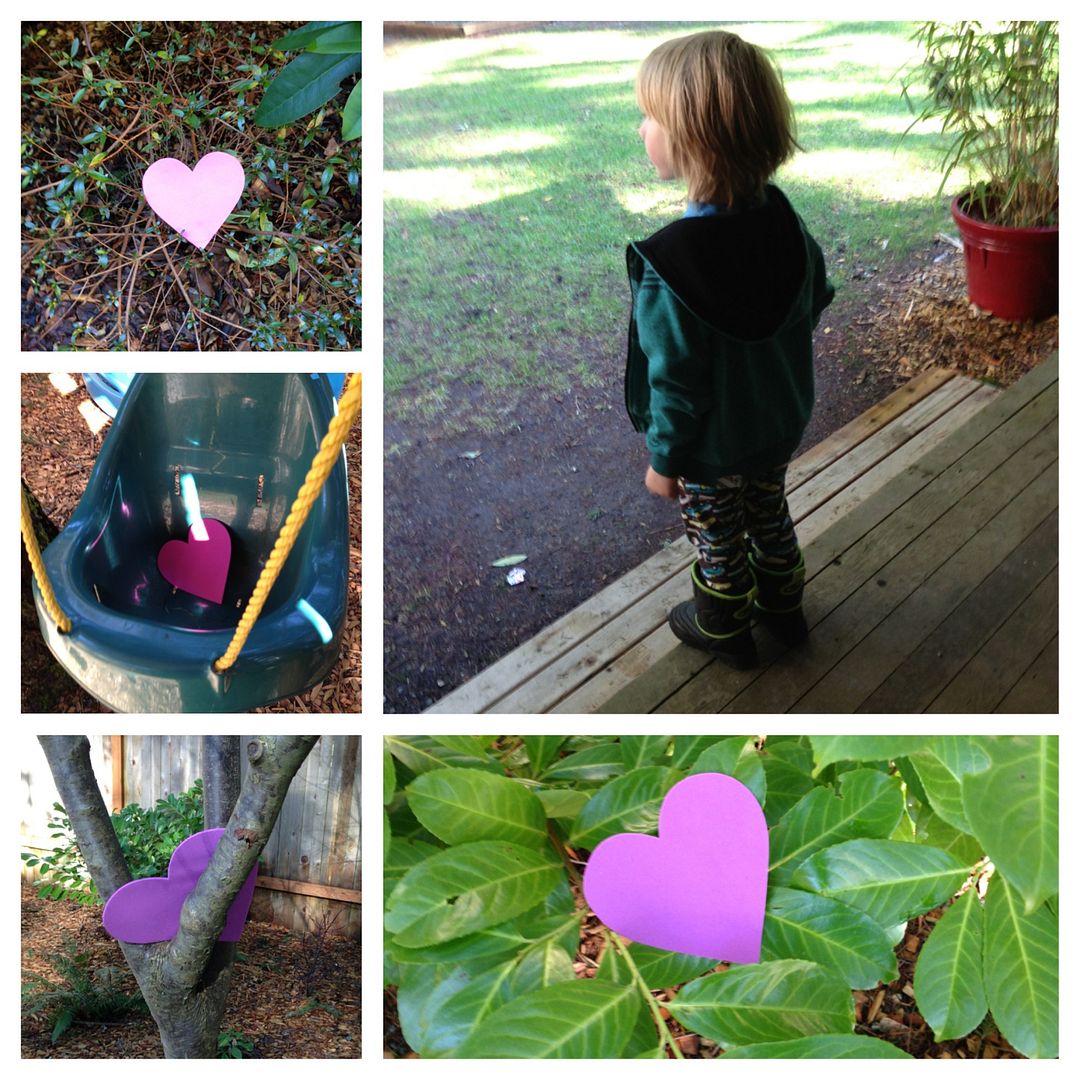 Ash loves to play hide & seek but sometimes it's just not the right time to play so I've started hiding things for him to find. I get a few things done while he's hunting and he's having a blast so it's a win-win for all! For Valentines Day I thought it would be fun to do a heart hunt. The plan was for me to hide 5 hearts around the living room for him to find, but we had a bit of a problem picking up a bin of toys we dumped out so we didn't get to play this fun game Thursday. Bummer! A bit of silver lining of not being able to have our fun on Thursday was that Friday ended up being a gorgeous day so we could go outside!
For the hunt, I had Ash sit on the couch in the living room so he couldn't peek while I was in the backyard hiding the hearts. I loved watching him giggle to himself as he was hunting. After he was done hunting he wanted to hide the hearts for me. We each had about four turns before Ash decided to hide the hearts for Gray to find when he got home.
*To get a few things done during the game when he was hunting I popped in the house to quickly sweep the kitchen floor and tidy up the kitchen. Then while he hid the hearts, I folded a few towels and so on.
Here's a few twists I plan to do to add a new layer of fun to this game:
attach letter cards to each heart to be put in order (alphabetic order, spelling name or sight words)
attach number cards (number ordering by 1's, 2's, 5,'s or 10's)
make the hearts different sizes and/or colors (pattern, largest to smallest, sorting by size or color)
Hope you give this a try with your little ones!
linked to: Skip to my Lou, Monday Funday