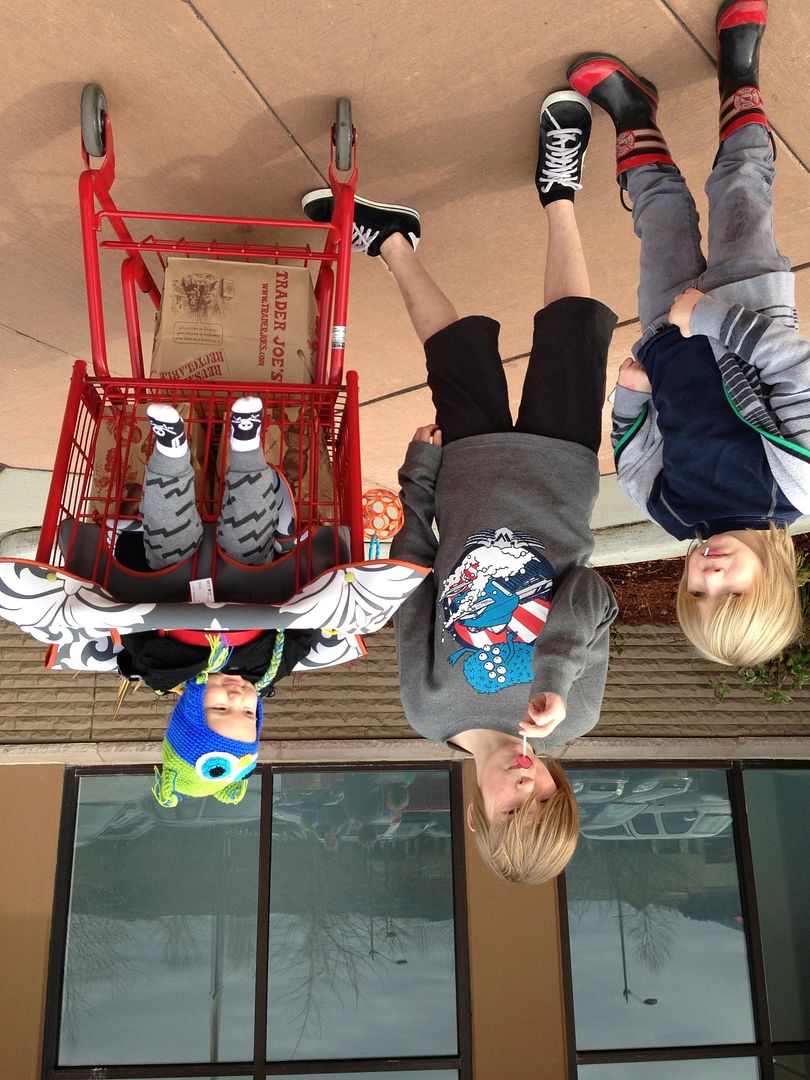 This morning we took my parents to the airport so they could fly to Texas to visit my brother before he deploys to Afghanistan. On our way back we did a little shopping at Trader Joe's where we learned something new…they have a "zoo" on top of the freezer section and everyday an animal escapes. If you find the hidden animal you get an organic sucker. (Okay, I almost laughed when the checker totally emphasized that the sucker was organic. As if the fact that it was organic made it okay that my kids were having candy in the morning.)We had gone into the store with our own game to keep everyone happy…the alphabet game. It's like the car game where you have to find signs that begin with the letters of the alphabet in order. We did it with Trader Joe's products. It was fun and we found A-Z just incase you were wondering!
Gray is wearing a Shaun White long sleeve thermal shirt and Shaun White shorts because he's still learning that you need to wash your clothes before they are all dirty so you have clean pants to wear & DC sneakers.
Ash is wear a Shaun White hoodie, the world's softest long sleeve tshirt from Old Navy (it was actually Gray's when he was five, it's been worn a million times, & it's still in perfect condition), Shaun White skinny jeans, & of course his fireman rain boots.
Kell is wearing a yellow thermal long sleeve shirt with a black & grey camo guitar on the front ($1.80 Target clearance!), a black jersey button up jacket ($3.50 Target clearance!). It has grey & black stripes in the hood and is awesome! He's sporting his Shaun White sweats and pirate skull socks (not Shaun White), and an owl hat. It's SO stinking cute!
linked up: ONE little MOMMA